Protect your lips with these natural and homemade lipsticks
The lips suffer daily the aggression of contamination, dryness and extreme cold or heat. Even colds, fever, or a diet deficient in vitamins A, B, and E can affect. The lips lose their natural hydration and become dry, flake and crack in a few hours.
The skin of the lips needs specific products because it is different. It is actually a transition between the skin and the mucosa. They are more sensitive and need more hydration. To keep them healthy, especially in winter, the lips need simple periodic care: that we exfoliate them, hydrate them and protect them from the sun and the cold.
Three basic lipcare
Exfoliate: it is used to remove dead cells and maintain healthy skin. Ideally, exfoliate your lips when you see signs of dehydrated skin, never more than once a week. Use a soft brush or lip scrub and make circular motions on the lips to activate circulation.
Hydrate: after exfoliation it is mandatory. The difference is that you can hydrate your lips every day, even several times a day if the weather is cold or dry, or you have had the flu or fever. Just apply a drop of vegetable oil and spread it with your finger so that they do not dry out.
Protect: If you go to the beach or to the snow, never forget your moisturizing and protective balm.
How to make your own lipsticks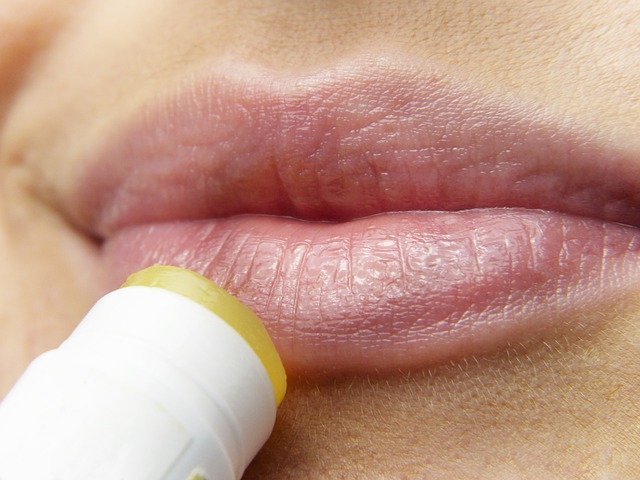 Aloe Cinnamon Scrub
You will need a small saucepan, a teaspoon and a glass jar with a lid, previously disinfected, to store the scrub (20 or 30 g). It can last up to 1 month in the fridge, as cinnamon, oil and salt will help preserve it. Do not forget to label it with the content and production date.
Ingredients:
1 teaspoon of aloe gel
1 teaspoon of superfine table salt
2 teaspoons of extra virgin olive oil
1 teaspoon of cinnamon powder
Elaboration:
Mix all the ingredients and stir until they are completely integrated. If you think it is necessary, add one more teaspoon of olive oil.
Apply a small amount of scrub with a soft brush or your fingers, and massage in circular motions.
Rinse your lips with normal to cold water and pat them dry very gently.
Calendula Protective Balm
You will get 15 g of balm. Have a pot, a glass jar and a teaspoon on hand. Cocoa butter protects the lips, coconut oil hydrates them, and calendula and vitamin E help repair them.
Ingredients:
3 teaspoons of cocoa butter
3 teaspoons of virgin coconut oil
3 teaspoons of calendula oil
3 drops of vitamin E
Elaboration:
Melt and integrate the butter and oils in the pot in a water bath.
Transfer a teaspoon of the balsam to a plate, wait a few seconds and check its hardness. If it is soft, add cocoa butter; if it is hard, calendula or coconut oil. Remove from heat, add vitamin E and pour into the pot. Let cool, cover and don't forget to label it!
You can add lemon balm or lavender essential oil, no more than two drops in this formula. They give aroma and are soothing. Avoid them if it is for children or pregnant women.
13 Tips to prevent lips from suffering
Drink plenty of water throughout the day.
Hydrate your lips with products suitable for your skin.
If you use color, make it without dyes or synthetic preservatives.
If you have dry lips, rehydrate them with a drop of sesame, peanut or olive oil.
Clean them after eating very salty or acidic foods, as they dehydrate.
Eat in a healthy and balanced way, with foods rich in Vitamin B.
Avoid biting and pinching your lips.
If they are parched, don't tear off your skin.
Avoid moistening them with saliva if they are parched. They become more dry.
Do not put face or hand creams on them.
Don't abuse alcohol or coffee.
Discard your expired lipsticks.