5 Benefits of Blueberry Infusion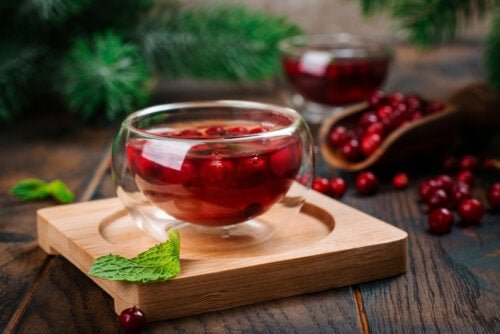 The benefits of blueberry infusion are associated, to a large extent, with its high contribution of antioxidant substances. Often this drink is made from the dried leaves of the bush. However, there are those who add the dried fruit to give it a more fruity flavor.
According to an article published in the journal Antioxidants , blueberry leaves contain flavonoids, anthocyanins, and procyanidins. Likewise, they are attributed anti-inflammatory, cardioprotective and neuroprotective effects. Do you want to know more about its benefits? Keep reading!
Benefits of blueberry infusion
Like other herbal drinks, blueberry tea is known for its medicinal applications. In particular, it is often used to calm anxiety and strengthen the immune system. In addition, it helps reduce cholesterol and the negative impact of free radicals on the body. What does the research say?
The benefits of blueberry tea are metabolic and immune, as well as working as an anti-inflammatory.
1. Improves mood
One of the most important benefits of blueberry tea is that it contributes to mental well-being. The reason? Its significant concentration of polyphenols. According to a study published recently in the journal Nutrients , a diet high in polyphenols can reduce depressive symptoms, stress, and anxiety.
And while it is not a first-line treatment for these conditions, it is a good adjuvant to relax . Therefore, in times of stress it is beneficial to consume a cup of the infusion. It can be sweetened with a tablespoon of honey for a more pleasant flavor.
2. Helps strengthen the immune system
The phenolic compounds contained in blueberry leaves are also helpful in strengthening the immune system. Therefore, when preparing them as an infusion, you get an ideal drink to reduce the risk of flu, colds and infections.
In research published in the Journal of Immunology Research , scientists determined that polyphenols promote immunity to pathogens through various immunomodulatory mechanisms. For example, by regulating the action of the intestinal mucosa and inflammation.
3. Lowers the risk of diabetes
eye! It's not that blueberry tea alone can prevent or cure diabetes; even so, it is a healthy drink that contributes to the control of blood glucose levels. Its anthocyanin content acts positively against insulin resistance and type 2 diabetes.
However, more evidence is still needed and it should only be an adjunct in the prevention of these metabolic disorders. In addition, in these cases the drink should be used without any sweetener.
4. Helps to take care of cardiovascular health
Although there is a lack of evidence on the relationship between the consumption of blueberry tea and heart health, it is believed that drinking the drink on a regular basis contributes to the decrease of harmful lipids in the blood. That is, it would not only have positive effects on reducing bad cholesterol (LDL), but also high triglycerides.
In a study published in Scientific Reports , researchers determined that the consumption of these berries can be a complement to prevent the onset of cardiovascular diseases in humans. Despite this, there is a lack of research linking its intake in tea and these effects.
5. Has anti-inflammatory activity
The gallic acid contained in blueberry leaves and fruits has anti-inflammatory potential . This quality is very important, as it is key to controlling and preventing a wide variety of chronic diseases , such as rheumatoid arthritis, mental disorders and allergies, among others.
How to prepare a blueberry infusion?
Infusion of naturopathy.
The presence of antioxidants in blueberries favors the blocking of free radicals.
To take advantage of the benefits of blueberry infusion, nothing better than making the drink at home. It can be prepared from the leaves or the berries , including a combination of both options. They can even be fresh, frozen or dry ingredients.
Ingredients
2 teaspoons of dried blueberry leaves (10 grams).
Dried or fresh blueberries (to taste).
1 cup of water (250 milliliters).
Honey from bees (optional).
Preparation
First, bring the water to a boil until it reaches a boil.
Then let it sit for a few minutes before adding the leaves and fruit.
Later, add the ingredients in the water and let the drink rest for 10 to 15 minutes .
If you decide to add fruit, crush them to enhance the flavor.
Finally, if you wish and there is no contraindication, sweeten with a little honey.What should be clear about the benefits of blueberry infusion?
For most healthy adults, blueberry tea is healthy and causes no side effects . On the contrary, its regular consumption is advised to increase physical and mental well-being.
However, if you have a disease or are under treatment, it is best to consult your doctor to determine if it is convenient to drink this drink. Furthermore, it is essential to bear in mind that it should not be a first-line treatment.